Straight teeth are what everyone in this world dreams about. However, very few people are blessed with naturally aligned teeth. Among the various teeth alignment methods, braces are the common. However, people feel shy and awkward while installing metal braces to bring their misaligned teeth into shape. Here come some advantages of Invisalign Melbourne in comparison to traditional braces installation.
Natural Design
The Invisaligns are plastic made transparent aligner that helps to re-frame your teeth arrangement. It appears invisible when you open your mouth, while the metal braces looks disgraceful and awkward.
Irritation and Uncomfortable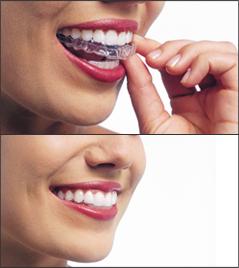 After the installation of braces, you might feel irritation or itchiness for the first few weeks. However, Invisaligns are completely computer-designed and you will not feel any sort of irritation while wearing it.
Soreness and Pain
The metal made braces often creates pain and soreness while wearing, which requires immediate medication to heal up. More so, in such situation you will face problem while speaking or eating. Needless to say, your gum may take some time to adjust with the metal braces. In case of Invisalign Melbourne, you will not witness any such wriggling pain or soreness.
Quick action
The time taken by Invisaligns to align your teeth is much less compared to the action of metal braces. In fact, you will experience the result in just less than a year.
Ease of use
Metal braces are fixed and cannot be removed until or unless the misaligned teeth come back to the original position. However, invisible teeth aligners can be removed very easily and re-worn.
No strain
Metal braces react quite significantly while consuming coffee, tea or while smoking. On the flip side, the invisible teeth aligners do not react while having stained food. You can easily brush your teeth and even need not to fear while chewing hard foods.
The price factor
Considering the cost-factor, the metal braces are cost-effective compared to Invisalign in Melbourne. Due to the design, efficacy and technology, the price has automatically gone up.
Conclusion
However, if you consider the entire dental treatment package (dentist's fee, re-arrangement cost, medication cost and number of sittings), then it will be very clear that invisible braces cost less. Nevertheless, the investment on Invisalign is worth.