It becomes a catch-22 situation when one, with no experience in visiting dentists, is asked to find out the best dentist in his/her locality. Some may have encountered dental treatment plenty of times, but what happens when you are completely a new visitor to this field of medicine? Well, you don't need to be a bundle of nerves. After reading this write-up for a couple of minutes you will be well endowed to handle the situation. So, now you need to know about how to get in touch with the good Dentists Melbourne! So, here you go.
A complete hands-on experience in the respective field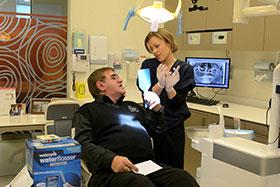 Is it a tough job to know the experience of the dentist? Well, not at all. In fact, you will have ample of online and offline resources that will help you know the experience and quality of work the dentist performs.
The comprehensively knowledge
The sign of a good dentist is not only to treat you, but also to show empathy and genuine concern in your query. The Dentists Melbourne should also explain the treatment procedures and the need for the treatment, in details. The professional helps the patients to understand the benefits and drawbacks and accordingly enable them to take decisions.
Ability to work long time
The best dentists are the ones who can flawlessly work for several hours and can confidently perform the emergency treatments. This is a good sign of profound dentists. Also, the dental experts should be able to guide you over phone in case of any emergency.
Exceptional communication skills
Until and unless you are able to make the Dentists Melbourne understand your difficulty, they will be unable to advice you properly. There would remain a gap in the entire treatment process. So, it is very much essential for a dentist to have good communication as well as demonstration skills. The dentist should also convey you the perfect picture of the financial plans and options.
Conclusion
These are some skills and qualities that you need to consider and check out while you proceed to search for a well-recognized dentist in Melbourne!