Are you suffering from slight pain in your tooth? Are you suffering from bleeding gums or tooth sensitivity? Well, don't ignore even the slightest of dental problems. The issues need to be immediately reported and consulted with a dentist Melbourne CBD.
Besides visiting dentists for any sort of complex dental issues like missing teeth, misaligned teeth, stained or discoloured teeth, gaped, crooked and chipped teeth, etc., the small problems also need to be addressed by a renowned and expert dentist.
Avoid last-minute search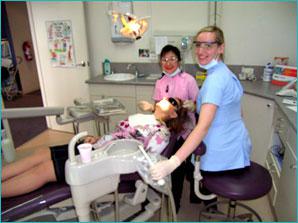 Now, you might pause a bit and ask yourself what's the need of driving so long to reach that dental clinic when you already have one at my close proximity right down the street? This is where most people make mistakes. They always start the search for the best dentist Melbourne CBD only when they feel the urgency. Even so, people even do not care searching for the most acclaimed and specialised dentist in town during urgency. They tend to visit to the closest possible dental clinic and get treated. This is where you might experience low-end dental services.
Low end services are to be avoided
You fail to realise, during your emergencies, that the team of dentists at the corner of the road may not be proficient and experienced. The dental clinic many not possess state of the art amenities and encouraging environment to carry out painless treatment process.
Reasons for visiting best dentist in town
So, here is why you need to make a search for the top-notch and highly-active Dentist Melbourne CBD.
Such a dental clinic strives to offer comprehensive dental care solutions based on thorough diagnosis and consultation.
You get to be treated in the hands of the most-experienced and highly-skilled dental practitioners.
The best dental clinic is endowed with the modern and updated imaging technologies as well as cutting-edge dental techniques.
You can experience flawless and modern dental philosophies.
You will be offered great suggestions, tips, advices and recommendations.
The best dental clinic would undertake convenient and stress free approach.
The team of dentists will be friendly and professional.
Children are highly-regarded and cared for in the best dental clinics.
Conclusion
Above all, the excellent and most reliable dentist Melbourne CBD would undertake holistic approach to your pains and problems.