One of the most dramatic teeth treatments is porcelain veneers.
Natural tooth material is removed from its surface and is replaced by the permanently bonded thin porcelain sheath in front of the tooth. Short and stubby teeth, a wavy surface, gaps between teeth and uneven lengths become issues with a set of veneer.
Porcelain veneers Melbourne may not instantly create the desired shade of whiteness. Many personalities, performers and actors obtain their perfect smile with porcelain veneers carried by the skilled cosmetic dentists.
Demerits of porcelain veneers: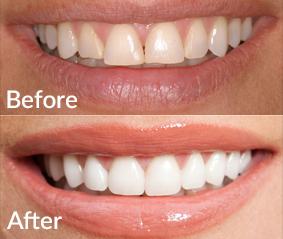 Unlike your natural teeth, veneer never is stained, darkened or affected by dental decay.
Veneers are not durable even with the help of modern materials and applications, and it lasts only for 10 years.
Depending on lifestyle habits, veneers can chip, break or fall from tooth at various times and it requires costly follow-up treatment at different intervals of life.
Factors like the effectiveness of bond to tooth, patient's bite and inappropriate use of one's teeth affect the longevity of veneers. If you are planning to buy veneer, plan for future maintenance and replacement of the best set of veneers. Change or replacement of the veneers is possible, but you should check the results, reputation and warranty of cosmetic practitioner you choose. Check if the prospective dentist fits with a diagnostic wax up and feels what finished product looks like before proceeding.
Veneers are man-made material, and it never fades. The difficulty of applying veneers and the process of removing newly applied veneer to correct someone's mistake should be considered. Veneers can correct any natural imperfections in the teeth.
Removal of newly applied porcelain veneers can be too expensive, so get it done from porcelain veneers in Melbourne to avoid any additional cost. Mistakes can affect longevity and health of your tooth so be cautious while purchasing veneers.
If your teeth were correctly bonded, it would not pose any problem to you. Porcelain bonding to teeth is a very sensitive procedure, and if its surface is not treated properly with oil, water or saliva, it may lead to failure. Incomplete coverage of the tooth may occur if veneer does not cover the edges of teeth completely and the spaces between teeth are more prone to darkening or decay.
Gum shrinkage may additionally expose your tooth and lead to the artificial two-tone appearance of your smile. For best results, get your treatment done by Holistic Dental the best Porcelain veneers Melbourne.