Wondering regarding what braces is? Then the information provided here will help you in knowing about the braces more. The braces are the orthodontic appliances that are attached to the teeth to administer it a proper form. The braces Melbourne is used widely by the dentist to provide improvement in the dental condition. Braces can be put anywhere in the mouth to align the upper, lower or both the sides as required for the correction of the tooth position.
Various Types of braces Melbourne available are indicated below: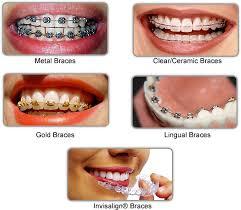 Invisible Braces: The invisible braces, known as invisalign braces give a perfect look to the patients by aligning their teeth. Such braces are often selected by the individual to its maximum benefit of not getting visible and perfectly aligned the teeth. This invisalign braces Melbourne would cost expensive as compared to other braces, but this works best, especially for those individuals who don't have major tooth problems.  Unlike the other braces that are attached permanently to your teeth, this brace can be easily removed while eating or brushing. It is the effective approach of cleaning your teeth by using such invisible braces.
Ceramic Braces: This is also known as the clear braces due to the color of these braces Melbourne are closer to the wearer original teeth color. They are generally available in white metal and clear elastic tiles to hold the braces on its fixed position. Such braces are hardly noticeable from the distance. You need to be careful while eating and drinking, as the color of the braces may get fade by drink beverages like coffee. The ceramic braces require high maintenance as they are soft and can be broken easily. Moreover, its installation also requires time; hence you need to be careful with such braces as it requires both cost and time.
Lingual Braces: These braces are another costliest option that is installed in the inner side of the teeth that makes it hardly visible. Such braces are installed only to those patients who have bigger teeth so that the braces can be hidden easily. For smaller teeth, this option is not suitable as it can be easily visible, moreover, there are changes that the tongue may get hurt while talking or eating. Hence, those who have the lingual braces installed should practice well enough beforehand.
Metal Braces: This is the least expensive braces available and most often seen used by the people that is made of titanium and stainless steel. People can also ask for the gold braces if their budget is a little high.
Wind Up
Installation of any the braces depends on the wearer's requirement and their choice. The cost of the braces Melbourne differs accordingly. This is a best way of defining the teeth in a proper alignment.