Do your teeth annoying you? Do you want to get proper tooth structure without selecting any metal braces? You will be happy to know that this is possible by having Invisalign braces that will serve with the perfect tooth structure without letting you put on metal braces. You may also call it as an invisible braces or clear braces. The Invisalign Melbourne experts are certified professionals who value their patient's health and dental requirement.
How Invisalign works for your Teeth?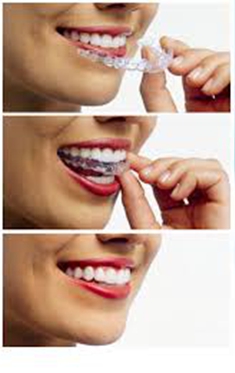 Invisalign is a revolutionary way to get a proper tooth alignment. It has proved to be successful in correcting various dental problems. Being transparent in look, it helps in moving the teeth to get into proper alignment without getting noticed unlike traditional braces.
The dental structure varies among the individual, therefore the Invisalign Melbourne dentist will take an impression of your teeth and then prepare a customised mouthpiece. They shape it according to your dental needs.
Advantage of Invisalign over Braces
You can't see your braces, because these Invisalign are invisible and no one could easily detect it. Often, patients complain about the traditional wired braces of being discomfort while wearing them. Even smiling with braces gains people attention. The Invisalign is far better as they are comfortable to wear; you can easily eat as before by removing and placing again whereas teeth can be cleaned properly.
How long it should be worn?
The result of the Invisalign cannot be seen at the very first day. You need to keep wearing it for 22 hours in a day for a year. Those patients who face severe dental structure problem needs to wear it for a period of 3 years. However, those patients who have a minor dental defect can get their problem fixed in the near 6 months.
Take care of your eating habits
After getting the Invisalign, one important thing to concern is to have a diet plan. Take out your Invisalign before taking a meal. Brush your teeth after taking the meal. Maintain proper oral hygiene. Drink lots of water to avoid bacteria action. Avoid drinking other beverages as that will build stain on your teeth.
Maintaining oral hygiene
Brush your teeth and floss every day after taking the meal. This will keep your teeth away from bacterial action and also you will not get any tooth decay or bad breath. Dental cleaning having Invisalign is a much better and easier way as compared to the traditional metal braces where the food stuck in these braces.
Follow-Up dentist
Visit your dentist after every eight weeks to know the impact of Invisalign on your teeth. What changes it has made of your teeth and how well you are maintaining oral hygiene. Ask your dentist about the precautions to be taken after taking Invisalign.
Wind Up
Lots of options are available to straighten your teeth, but only the Invisalign will help you to get the comfort and perfection you look for.