Porcelain veneers are a tremendously trendy in the field of cosmetic dentistry. Veneers are actually thin sheets of porcelain which are adhered to teeth of patient in order to alter the look of every tooth. When they are concerned, veneers have the capability to radically improve the aesthetic of an individual's smile. This is because of the fact that veneers cover any present issues with a person's natural teeth. For example, gray or yellow teeth suddenly look white and chipped or crooked teeth appear straight. So, Porcelain Veneers Melbourne is always recommended.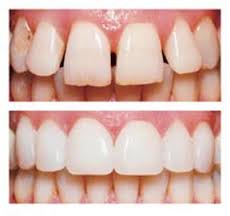 Especially if you make a point of selecting a top cosmetic dentist around your area to carry out your procedure, porcelain veneers appear extraordinarily realistic. It is probably that people won't even comprehend that you have veneers. Many people are exceedingly pleased by their porcelain veneers and find them to be a contented, natural looking alternative to their real teeth. The dentist you choose to carry out your cosmetic dental treatment, though, can make or break the concluding result.
Why porcelain veneers are needed?
There are a number of dental problems that these veneers are utilized to resolve. The custom application of porcelain veneers in the dental procedure includes the subsequent applications.
Repair of teeth that are depleted:
The tooth enamel corrodes eventually because of different reasons. In such cases, to stay away from further damage, porcelain veneers are utilized.
Align the dentition:
In case if the teeth are misaligned either naturally, because of accidents or other reasons, porcelain veneers are suggested as a long term solution.
Conceal discoloured teeth:
In case, if the tooth is discoloured because of external factors such as a root canal treatment, use of tobacco or additional drugs and extreme exposure to fluorides, a porcelain veneer might be used to cover up it.
Fill the gaps between teeth:
In several cases, the teeth have big gaps between them making chewing hard and the look unpleasant. Besides, food particles are liable to get launched in between teeth and trigger rotting. In this case a porcelain veneer might be suggested to fix the problem.
Holistic Dentals are providing best services to all dental patients including best procedure of Porcelain Veneers Melbourne, being most recognized in the field because of their highly qualified and expert professionals as well as the advanced technologies they adopted. To resolve any query, contact us now