Dental veneers also recognized as dental porcelain laminates or porcelain veneers, are specially made porcelain shells which cover the original surface of tooth, making it appear aesthetically pleasing. These shields help correct numerous dental problems, for instance discoloured, misaligned, broken or chipped, worn down, uneven, spacing as well as stained teeth.
Dental porcelain veneers are the best alternative to conventional dental crowns or bridges. The chief difference between dental and dental crowns is that Veneer prep (tooth) is extra conservative in tooth reduction in comparison with crown prep. Dental can be intended to bear a resemblance to the color of the original tooth, completing the complete look.
Kinds of Dental Veneers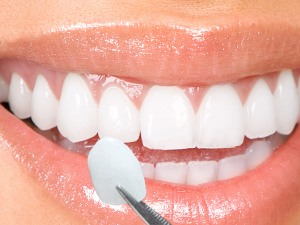 Dental veneers are generally of two kinds – porcelain and composite resin. Composite veneers are tied to the tooth as well as done chair side and need one appointment. On the other hand porcelain veneers are sent to the lab to be specially made and requires 2-3 appointments.
In order to get ready for the procedure, the dentist removes a little amount of tooth surface to make a place for putting the veneer. Afterward an impression of the complete area is taken and sent to lab, in order that a customized veneer can be prepared. The veneer is subsequently cemented onto the tooth as well as bite is tested and adjusted.
About the Porcelain Veneer Procedure
After choosing a specialist in dentist or a dental expert in your city, your primary step is a discussion where you will form a plan for attaining your spanking new smile. Consider the size, shape, and style of porcelain veneers that will work finest for the shape of your face as well as size of your mouth to achieve your beloved smile.
In the period of the first step of the authentic procedure, the dentist takes away a thin layer of tooth enamel in order that the porcelain veneer fits physically into your mouth. Afterward, the dental expert will adhere a provisional veneer over each tooth so they are guarded while a dental laboratory concludes your final porcelain veneers. Once your lasting veneers are prepared, the dentist eliminates the provisional veneers, places the ultimate permanent veneers, and you run off the office with the most pleasant smile of your dreams.
Holistic Dental is here with the best procedure of Porcelain Veneers making your teeth pleasant with beautiful smile. Contact us now for more details.